FACILITATOR ACCREDITATION
 For Trainers, Facilitators, HR leaders
 This program will help you:
Build your expertise
Gain confidence and credentials
Learn to navigate unexpected and challenging conversations
The Five Behaviors of a Cohesive Team™ Facilitator Accreditation is a blended-learning course that will help you hone your skills as a facilitator of this very powerful team-improvement program. You can be the difference in whether a team sees the uncomfortable moments through to greater cohesiveness or misses out on opportunities to grow.
The Five Behaviors program is not your typical workplace training. Sessions can get heated. Participants can become emotional. The team leader may get defensive. Timelines and plans can get thrown out the window. Facilitator Accreditation will give you the tools, confidence and credentials to navigate those unexpected and challenging circumstances.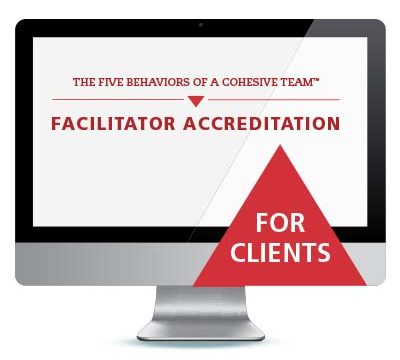 Read more Certification and Upcoming Classes
Click here for the class syllabus
Click here to review training Materials
To learn about pricing,
call us at 203-667-6415.
Promotional Videos and Demo Link
http://demo.fivebehaviors.com/